Xbox Music versus the world: Streaming music showdown
If music soothes the savage breast, then why are so many 800-pound gorillas slugging it out in a battle for your eardrums? Microsoft recently stepped back into the streaming music fray with Xbox Music Pass, a revitalized Zune Pass replacement that's baked right into Windows 8 and Windows RT. It may be pretty and it may be (somewhat) free, but Xbox Music Pass faces stiff competition from a crowd of contenders that includes heavyweights such as Pandora, Rdio, Slacker and Spotify.
How does Xbox Music Pass stack up against the entrenched alternatives? Let's compare Microsoft's latest streaming music service against the big hitters mentioned above.
Xbox Music Pass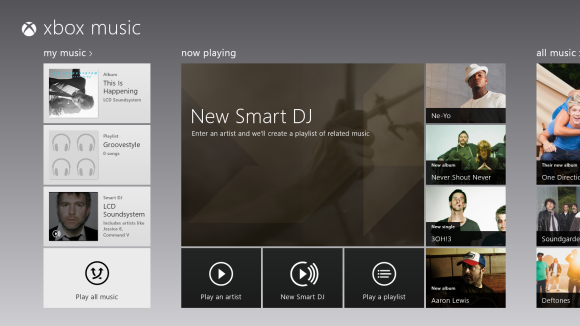 Xbox Music Pass continues Microsoft's Live Tile motif.
Xbox Music Pass may be part of the Windows 8 Music app, but it's no slouch. Microsoft's streaming music service offers more than 18 million songs for U.S. customers, and you can fill its handful of coverage gaps by paying for tracks à la carte in the Xbox Music digital storefront.
The "Smart DJ" mode does a decent job of generating playlists inspired by your favorite artists and songs. The audio quality sounds good, though the 192-kbps bit rate won't impress dedicated audiophiles. The polished interface wows. Like the rest of Windows 8, however, it's prone to emphasizing attractiveness over usability, resulting in superfluous clicks and swipes.
Xbox Music Pass offers free unlimited listening for a limited period, allowing you to pay for your freeloading ways by tolerating the occasional audio ad. After six months, Microsoft slams on the brakes and limits your listening to 10 hours each month.
Springing for a $10 monthly premium subscription ditches the ads and opens streaming to Windows Phone 8 handsets and Xbox 360 consoles, which raises my biggest qualm about Xbox Music Pass: It's available only on Windows 8, Windows RT, Windows Phone 8, and the Xbox 360. Android and iOS support will come "within 12 months," but current Windows 7 and Windows Phone 7 users are left out in the cold.
This severely limits Xbox Music Pass's reach and usefulness, dropping it to second-tier status for all but the most fervent Microsoft faithful. And why do I need to be a $60 yearly Xbox Live Gold subscriber to use Music Pass on my console? Isn't that what I'm paying $10 each month for?
Catalog size: 18 million-plus
Audio quality: 192-kbps WMA streaming; 256-kbps streaming for à la carte digital downloads
Subscription plans: Unlimited ad-supported free listening for six months, limited duration after; $10 monthly fee removes ads and unlocks device support
Device support: Windows 8, Windows RT, Xbox 360 (requires Xbox Live Gold subscription), Windows Phone 8
Extras: Smart DJ radio listening, console support, à la carte downloads (per-download à la carte songs stream to any device you're signed in to)
Spotify
Spotify is cluttered, yet conscientious of your clicks.
Spotify's cluttered desktop client doesn't come close to matching Xbox Music Pass's eye candy, but it does deliver an abundance of functionality: Most options are only a click away. The 18 million-strong tune selection is just as large as Microsoft's, and you can fill the gaps by integrating your local music library with the Spotify client.
One area where Spotify outshines Xbox Music Pass is in device support. Spotify doesn't support Windows Phone 8, or have a Windows 8 app yet, but the service is available on every other major mobile and desktop client—even on Nokia's Symbian platform and a wide array of home theater equipment. The lack of a Web client stings, however.
Listening to Spotify on anything other than a desktop client requires a $10 monthly premium subscription. That subscription includes an audio-quality boost to a best-in-class 320 kbps, which is a vast improvement over the desktop client's 160-kbps standard and matched only by MOG. (Mobile devices have the option of dropping down to 96 kbps to save on cellular data.) On the desktop you can tune in for free and forever if you don't mind hearing frequent ads, or you can pay $5 monthly to scrub the commercials from the PC client.
The service hosts a bevy of third-party apps, including offerings from Billboard Top Charts, Last.fm, Rolling Stone, TuneWiki, and song-discovery services. It's a huge attraction for Spotify. The Last.fm app in particular makes up for Spotify's so-so music-discovery talents; in fact, I consider it a must-have.
Spotify's widespread device support, deep on-demand catalog, and no-strings-attached, no-limits-involved free listening option make it an extremely compelling service for the average user—assuming that you don't mind hand-picking tunes. Spotify's Radio functionality sucks.
Catalog size: 18 million-plus
Audio quality: 160-kbps Ogg Vorbis by default; 320-kbps streaming for $10-per-month premium subscribers; 96-kbps option for mobile listeners
Subscription plans: Unlimited ad-supported free listening; $5 monthly fee removes ads from desktop client; $10 monthly fee unlocks device support, higher audio quality, and offline mode
Device support: iOS, Mac, Android, Symbian, Windows Phone 7 Mango, BlackBerry, Sonos, Logitech Squeezebox, WD TV Live, Boxee, Onkyo/Marantz/Denon receivers, Phillips Streamium, Samsung Smart TV
Extras: Radio stations, third-party apps, offline mode, "inbox" for shared music, related-artists listings, gift cards, local music library integration, collaborative playlists
Rdio
How did Justin Bieber end up in my Heavy Rotation suggestions?
In song selection, Rdio goes toe-to-toe with any top-tier streaming competitor, but the service truly shines on the social front. It encourages new users to start following other Rdio users, as well as Facebook, Twitter, Last.fm, and email pals, before the service even shows off a single track.
Keeping tabs on your friends is just the tip of the iceberg, though, as Rdio prominently displays the songs, albums, and playlists that users are currently listening to, and the service generates a "Heavy Rotation" list of suggested albums based on your listening history and follow list. Collaborative playlists are another fun social-oriented extra.
The Web client is white, clean, and crisp, while the desktop client can integrate your local iTunes and Windows Media Player libraries. Rdio plays sly with its audio quality, copping only to streaming at "up to 256kbps" rates, but songs sound average or slightly above average compared with other services.
Unlike the other options described here, Rdio doesn't offer free unlimited listening. Instead, free users receive a short amount of listening time that's replenished monthly. That may sound like a drawback, but it also means that the service rolls along blissfully ad-free. Opting for a $5 monthly Rdio Web subscription unlocks unlimited listening from the Web and desktop apps, while a $10 monthly Rdio Unlimited subscription lets you listen from non-PC devices. All the major mobile platforms are supported, but home theater hardware support is pretty much limited to Roku and Sonos systems. Discounted family subscriptions are available.
Rdio is a great streaming music service, especially if you're a socialite who's willing to pay for your audio pleasure. The limited home theater support, the barely-there passive listening options, and the lack of an ad-supported free-listening tier may drive some people toward other services, however.
Catalog size: 18 million-plus
Audio quality: Won't say, other than "up to 256kbps"
Subscription plans: Free listening of very limited monthly duration; $5 monthly fee allows unlimited listening through Web and desktop clients; $10 monthly fee unlocks device support; discount family subscriptions available
Device support: iOS, Android, BlackBerry, Windows Phone 7, Sonos, Roku
Extras: No ads, offline mode, desktop client integrates local iTunes and WMP libraries, strong social focus, Heavy Rotation list, collaborative playlists
Now for a word from our sponsor…
The last two options I'll discuss differ from the previous contenders in that they come from a radio-style-first perspective. Rdio, Spotify, and Xbox Music Pass focus on on-demand listening; although all of those services include noninteractive radio-type options, they're fairly lackluster. In contrast, Pandora and Slacker Radio—as the latter service's name implies—were built from the ground up for hands-off listening.

ASUS A32-F3 Laptop Battery
Li-ion 4400mAh 11.1V
US $59.26
Slacker Radio
Slacker Radio uses flesh-and-blood DJs to curate its 200-plus radio stations, making the stations much more intriguing than the algorithmically generated radio options found in Slacker's competitors. Slacker offers radio stations for every genre and subgenre imaginable, along with awesome specialty stations like "Great Songs You Forgot" and the punishing "Bass and Beats," which managed to blow my Beats headphones two days after I started tuning in. (No, that's not a complaint.) Four comedy stations keep things merry, while premium subscribers get access to live ABC News and ESPN Radio affiliates.
What, none of that sounds good? You can also create autogenerated stations built around music related to your favorite artists and songs.
That's still not enough? Slacker actually mixes the best of both worlds: Paying $10 monthly for a full subscription lets you play any of its tunes on demand, complete with Spotify-esque playlist functionality and offline mobile caching options. Slacker also carries songs from some big-name artists that you can't find on most other streaming music services, including Pink Floyd and The Beatles.
Similar to Spotify, Slacker lets anybody listen to unlimited ad-supported songs for free, though nonpaying subscribers are restricted to radio functionality. Slacker's device support also stands out from the crowd: The service's hardware reach extends far and wide, and you don't even need a premium subscription to listen on auxiliary devices. None of the on-demand-focused streaming services offer free device support.
Slacker isn't perfect, however. The Web client is bland, the audio quality is just average, and the service doesn't integrate your local music collection. Nevertheless, the blend of DJ-curated tunes and free device support makes it a strong option for gratis listeners, while the mix of strong radio stations and full on-demand listening should appeal to people who don't mind paying for the privilege of listening. It even has a Windows 8 app. Slacker's versatility makes it my favorite streaming music service.
Catalog size: Unknown, and representatives didn't answer my queries (though the service claimed to have 10 million songs in October 2011)
Subscription plans: Unlimited free ad-supported radio listening and device support; $4 monthly fee allows ad-free Web listening, unlimited song skips, mobile radio station caching, and live ESPN and ABC News stations; $10 monthly fee unlocks on-demand listening with playlist functionality, ability to create single-artist radio stations, and offline album and playlist caching
Device support: Windows 8, iOS, Android, BlackBerry, Palm, Windows Mobile, Windows Phone 7, Symbian, Roku, Logitech Squeezebox, Acoustic Research Infinite Radio, Sony TVs and Blu-ray players, Sonos, Ford Sync
Extras: Mix of on-demand and radio-style listening; 200-plus DJ-curated radio stations; live ESPN and ABC News radio stations; offline station, playlist, and album caching; specialty and seasonal radio stations
Pandora
Pandora looks great! Too bad the audio quality doesn't match.
By now, everyone knows about Pandora, the Internet radio station that brought streaming music to the mainstream. Pandora's standout features are its unmatched device support—you can even tune in on several cars and a Samsung smart fridge, for crying out loud—and the vaunted Music Genome Project, which dissects the myriad musical elements in songs that you thumbs-up and thumbs-down to create a listening experience tailored for your ear. In a nutshell, Pandora is scary good at playing songs that you may not have heard before but that you immediately love.
Pandora is also an incredibly cheap streaming music option. Anybody can listen to as many ad-supported tunes as they want, and a Pandora One subscription that kills the ads and increases audio quality costs only $4 a month or $36 a year. You can't beat those prices anywhere.
Pandora isn't all roses and sunshine, though. Licensing restrictions limit listeners to six skips per hour, and free users have to sit through a ton of ads. The music quality isn't great either, clocking in at an unimpressive 64 kbps for free accounts and at 192 kbps for Pandora One subscribers. Pandora's audio quality on home entertainment devices splits the difference at 128 kbps, Slacker's default streaming rate.
More noticeable, perhaps, is Pandora's paltry song selection. While most of its competitors offer more than 15 million songs, Pandora chugs along with around 1 million tunes, which leads to frequent repeats—especially if you've dedicated the time to crafting a carefully honed station. Pandora is also the only service covered here that doesn't let premium subscribers cache songs for offline listening on their mobile phone.
That said, Pandora is a useful tool for the frequent wanderer's musical arsenal. The ridiculously deep device support, free listening, and cloud-saved settings mean that if you expend the effort to create a decent station or two, you'll be able to access them from pretty much anywhere you have an Internet connection. Pandora is decent for casual listening aside from that, but overall, Slacker and the other streaming music services mentioned here outshine this old hand.
Catalog size: Around 1 million
Audio quality: 64-kbps AAC+ for free Web listeners; 192-kbps streaming for Pandora One subscribers; 128-kbps streaming for home entertainment devices; 65-kbps maximum for mobile phones
Subscription plans: Unlimited free ad-supported radio listening and device support; $36-per-year Pandora One subscription removes ads, ditches 12-skips-per-day limit (6-skips-per-hour limit still applies), ups quality to 192 kbps, and unlocks desktop client with custom skins
Device support: iOS, Android, BlackBerry, TiVo, Roku, Sonos, Verizon FiOS TV, Livio Radio, Logitech Squeezebox, Grace Digital Internet Radio, Chumby, Boxee, VUDU, DirecTV, Dish Network, Denon receivers, HDTVs, home theater systems and Blu-ray players (Insignia, JVC, LG, Panasonic, RCA, Samsung, Sony, Toshiba, and Vizio), in-car support (select BMW, Buick, Ford, GMC, Mercedes-Benz, Mini Cooper, and Scion models), car radio (Alpine and Pioneer), Cambridge Audio NP30, Rotel Hi-Fi tuner, Sangean Internet Radio, Sony Dash, Sonoro elements W, Autonomic Controls Mirage Media Servers, Netgear NeoTV Streaming Player, NuVo Music Port, RCA Streaming Music Players, Sony Streaming Media Player, WD TV Live
Extras: Music Genome Project